Dr. Patrick Healy, DC, MS
Doctor of Chiropractic, Master of Sports Science & Rehabilitation
Dr. Patrick Healy felt a calling to natural healthcare early in life. He participated in many outdoor and physically demanding activities in his youth, and frequently found himself restricted by aches and pains or injuries. He made an effort to avoid taking painkillers, and sought alternative treatments when he needed them. After seriously injuring his back at the age of 16, and visiting multiple surgeons and specialists who recommended surgery, Dr. Healy decided that he needed to look elsewhere. Fearful of the long term consequences of having surgery at such a young age, Dr. Healy visited a Chiropractor who effectively alleviated his pain in less than a week, and helped him prevent recurrences through a rehabilitation program. Amazed, Dr. Healy began learning about Chiropractic as a profession, and preparing his education to help others in the same way.

Dr. Healy was born in Bangor, Maine, and raised in Holden. After graduating from John Bapst Memorial High School in 2003 where he was an accomplished athlete and president of the student body, he completed his degree in Biology at the University of Maine and went on to study Chiropractic at Logan College in St. Louis, Missouri. Drawn back to Maine by the people, scenery and his family, Dr. Healy chose to open Healy Chiropractic LLC in Brewer to help his colleagues in the area provide the people of Maine with the highest quality healthcare. Dr. Healy currently lives in Hudson with his wife Aly.
In 2011, Dr. Healy completed his Master's degree in Sports Science and Rehabilitation with an internship in the University of Maine Athletic Training and Sports Medicine department. Though sports injuries are a large part of his practice, Dr. Healy is well trained in Family Chiropractic Health and Wellness, and can advise all patients on the appropriate care for their conditions. He is also skilled in treating patients during pregnancy!
Healy Chiropractic is currently serving the community by providing healthcare and injury management to the athletes of Brewer High School and Chiropractic care to the University of Maine!
Dr. Healy is an active member of the Brewer Business and Community Alliance and Bangor Region Chamber of Commerce.
Resume:
Doctor of Chiropractic (2011)
Master's Degree in Sport Science and Rehabilitation (2011)
BS in Biology (2007)
BS in Life Science (2009)
CPR/AED/First Aid Certified
Techniques:
Diversified, Thompson, Leander, Flexion Distraction, Activator, Active Release Technique, Graston, Instrument Assisted Soft Tissue Mobilization (commonly know as "scraping"), Percussion Therapy.
Therapeutic Modalities:
Electric Stimulation, Ultrasound, KinesioTaping, Exercise and Rehabilitation, triggerpoint therapy and myofascial release.
Interesting fact about the Dr. Healy:
He and his younger brother renovated the whole office at 270 Wilson St. where Healy Chiropractic is located! Schedule your appointment today to check out the new office and the services that we provide! There has since been 3 different office layouts, expansion into the Health Fitness Center on the second floor and more to come!
---
Dr. Ron Watson
Doctor of Chiropractic, Master of Nutrition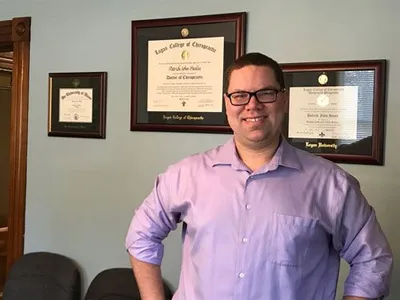 Dr. Ron Watson grew up in southwest Michigan and attended undergraduate education at National University of Health Sciences in Chicago, IL. After starting chiropractic school in Chicago and then transferring he completed his chiropractic education at Los Angeles College of Chiropractic. As a student Dr. Watson found a passion not only for healthcare but also for service and was actively involved as the Student Body President of LACC and the National Legislative Chair for the Student American Chiropractic Association.

Following clinical internships at California State University and the Greater Los Angeles VA medical center Dr. Watson earned his Doctorate of Chiropractic and entered practice in San Luis Obispo, CA. While in practice he focused on working with martial athletes and served as the Team Chiropractor for the Budo Ryo Muay Thai team while simultaneously pursuing a Master of Science in Functional Medicine and Human Nutrition from the University of Western States.
With a growing family and a desire to change locations Dr. Watson and his wife, Jenny, moved to and quickly fell in love with central Maine. After a year of searching for the perfect place for them to call home they were able to relocate to Pittsfield, where they are happy to be building a life with their son, Ron, their two cats, Harley and Remington, and the newest addition to their family, a red lab named Leia.
Dr. Watson is an active member of his community, serving on the Bicentennial Committee and the Planning Board for the Town of Pittsfield. He additionally serves on the Legislative Committee of the Maine Chiropractic Association and is a member of the faculty at the University of Western States, where he teaches Nutritional Epidemiology.
As a strong proponent of lifelong education, Dr. Watson has also recently started postgraduate training in Orthopedics and Neuromusculoskeletal Medicine from the University of Bridgeport. In his spare time Dr. Watson enjoys reading, martial arts, traveling, cinema, and spending time with family.
Degrees
Doctorate of Chiropractic (2014)
Master of Science in Human Nutrition and Functional Medicine (2016)
Bachelor of Science in Biomedical Sciences (2009)
Awards & Honors
Maine Chiropractic Association - Robert Lynch Young Leadership Award (2017)
Student American Chiropractic Association - Member of the Year (2014)